AFFORDABLE LEGAL SERVICES

®
Missouri Attorneys Offering Reasonable Flat Rates for Common Legal Concerns
Services Provided in Person, or by Internet, Phone, Email, and Mail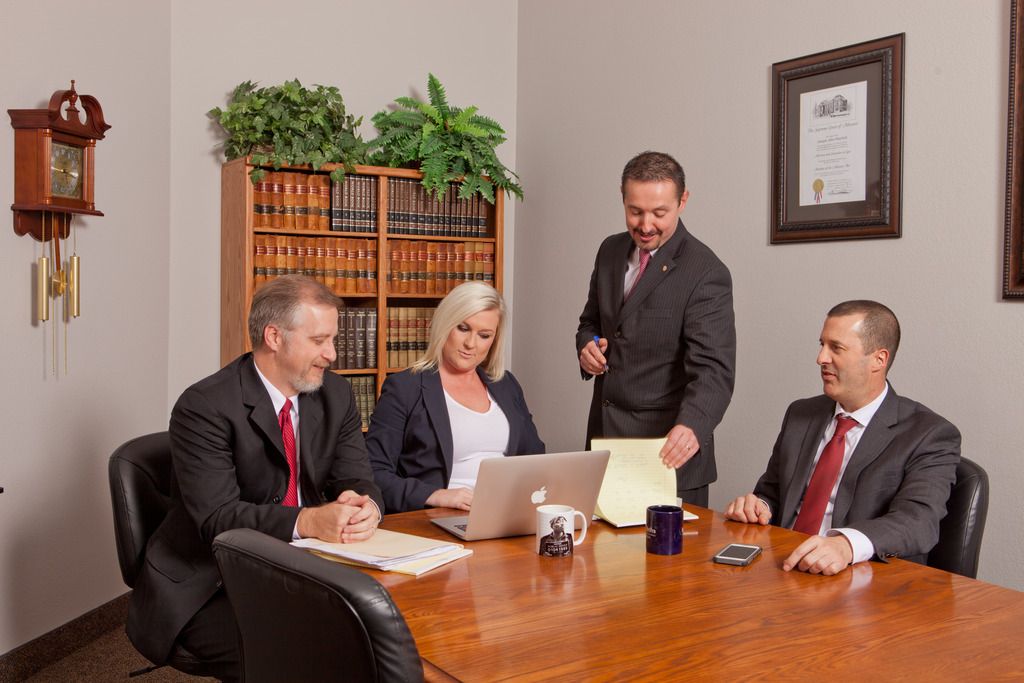 Although The Piatchek Law Firm is a full service brick and mortar law firm with multiple office locations in Missouri, this website is dedicated to Affordable Legal Services, a special division of our firm, that handles basic legal concerns at reasonable flat rates. This includes Uncontested Divorce, LLC Formation, Traffic Tickets, and basic Wills or Trusts, among others. We handle these types of cases throughout the entire state of Missouri, in all counties, including but not limited to such areas as St. Louis, Kansas City, Springfield, Columbia, and Jefferson City.
At Affordable Legal Services, our Missouri licensed attorneys are happy to help at our two office locations in Springfield and St. Louis; however, we also are available to help residents throughout the entire State of Missouri through internet, phone, email, and mail service. Because we provide services remotely by phone, internet, and mail, we are able to keep our costs low, and can pass that savings on to our clients by not having to invest in larger offices, more meeting space, and more equipment. Therefore we can help you with your common legal concerns at very reasonable, flat rates.
However, even if your concerns are not basic, or start simple and later become complicated, you can feel confident that the attorneys at the main offices of The Piatchek Law Firm, LLC are there to help. At our principal offices in both Springfield and St. Louis, we have multiple attorneys available to assist with a wide array of cases, including Estate Planning, Probate, Elder Law, Real Estate, Business Law, Family Law, Criminal Defense, Civil Litigation, and many other types of matters. For more information on all of the practice areas and services offered at our main office, feel free to visit the Piatchek Law Firm website at www.OzarksLawFirm.com
Reasonable Flat Rates for Common Legal Concerns
Handled by Missouri Licensed Attorneys through Phone, Internet, Mail, and Email
The website is dedicated to a special division of our law firm, Affordable Legal Services ®, that helps clients with basic legal concerns at reasonable flat rates. Our Attorneys provide services throughout the entire state of Missouri by phone, internet, email, and regular mail. By servicing clients that do not need to physically come to our offices for in person meetings, we are able to offer substantially reduced rates to clients throughout the entire state of Missouri who have basic, common legal concerns.
Our goal is to provide friendly, effective, and Affordable Legal Services ® to individuals, families, and businesses. Yes... "affordable", a word that is not typically used to describe attorneys.
Please keep in mind that "Affordable" does not necessarily mean "cheap", and certainly does not mean "free". We pride ourselves on providing the very highest quality of legal services, yet we do so at a reasonable, flat fee. That makes us a superior value - your hard earned money will go further at our firm. In addition, we are often able to offer payment plans, such as level pay plans or installment plans, or discounts for payment in full at the beginning of your case. We are Cost Considerate Counsel ™ for your family or small business. Some of our usual concerns include such cases as uncontested divorces, basic Wills and Trusts, Traffic Tickets, or starting up a new business by forming an LLC.
WHY NOT HIRE A LAWYER?
By: Joseph Piatchek
Many times, people don't get the legal help they need. Some people truly cannot afford an attorney, and that is why we have public defenders, legal aid, and various agencies that offer free or low cost services. However, we find that many of our clients are able to afford an attorney, when we are able to talk openly and honestly about fees. Some people assume the worst case scenario and don't even try talking to an attorney. If they would just contact us, they would likely find they can afford our Cost Considerate Counsel ™.
Some people simply ignore legal problems and hope the problems disappear. Other people try to handle it alone, based on what they heard from a friend, or what they saw on TV, or worst of all, what they read on the internet.
DON'T RISK "LEGAL DOOM": INTERNET SELF HELP SITES
If you only remember one thing from your visit to our site, please let it be this:
For most people, one of the WORST things you can do is go on the internet and try to do it yourself. Reading what other people say (usually not attorneys), or filling out some template form or contract, without having any of the necessary background information, knowledge, or education, without having someone there to explain the most common mistakes people make, can end very badly.
Almost as bad are the numerous online self-help sites, offering fancy radio and internet advertising, claiming their documents to be top-notch. In my experience, many of the documents you find on these sites have issues; and even if the documents were very good, what if you are filling out the wrong one? What if there are other matters you should have considered?
We have reviewed, many, many documents over time from sites like this, and there is almost always some sort of problem. Either the person did not understand the form because there was no one to explain it to them; the form was not right for their situation; or there were provisions that should have been included, or there were provisions in the document that should NOT have been included.
LEGAL "DO-IT-YOURSELF"ERS
We have dealt with a lot of legal "do-it-yourselfers" over the years. Many think they are saving money, however, in the long run it will actually cost much, much more, because mistakes are being made. The type of mistakes that no one will discover until it is too late - the mistake in a LAST WILL AND TESTAMENT that isn't noticed until the person is gone, and renders the document useless; the incorrect contract clause that is discovered after the parties are already disagreeing; a mistake made in a custody or divorce document that causes the parties to have to sue one another down the line, because they did not get it right the first time.
By the time a mistake is discovered, it is simply too late to fix it. Or, in other cases, the problems can be fixed, by spending a lot of time and money to fix it.
Consulting a website, or finding your own legal form, does not create a relationship. If you have questions, who will you contact? In my experience, most people who "do-it-yourself" ill still end up in a lawyer's office one day anyway, because they will eventually lie awake at night doubting whether or not the situation was handled correctly to begin with.
If you could get quality legal services for a reasonable fee, wouldn't that make more sense than trying to handle it yourself? Affordable Legal Services ®now allows you to do this. See the contact us page for details on how to get a hold of us.
WHY YOU SHOULD HIRE AN ATTORNEY
In today's world, everyone needs the advice of an attorney at some point. Not hiring a lawyer when you need one can be a very costly mistake; it can cost you dearly in money, time, frustration, stress, and new legal problems result from your failure to hire counsel to begin with.
We have found one adage that describes the situation:
HIRING an attorney is usually LESS expensive than NOT hiring one.
This is because ignoring problems or not dealing with them, usually creates bigger problems. A good attorney can save you time and money in the long run, by helping you avoid problems before they begin.
I believe that anyone in need of an attorney should be able to see one. It is one of my primary goals in life to make quality legal services more available, by making them more affordable. Please understand, this does not mean we will be the cheapest around, or work for free. However, we do offer a culture of affordability at our firm; we attempt to do things in the most efficient and effective manner, and the least cost, when handling your case.
CONTACT US TODAY
At Affordable Legal Services, LLC® we believe that everyone deserves quality legal services at fair prices. We believe that basic, straightforward cases should be handled at reasonable, flat rates. Please contact us by phone by clicking here, or email us in the box on the right hand side of this page.
Payment Plan Options Available
Visa, MasterCard, Discover, and American Express Accepted